Events

TAFU organises events to promote and celebrate the contribution of older persons and to raise awareness. TAFU also conducts training for TAFU's nursing aides, coordinators and volunteers and other older persons organisations.


First Senior Citizens Convention - 1 October 2017

Everyone is welcome to come and celebrate International day of Older Persons with us at St Peters, Nsambya.

There is free entrance, music and entertainment.

For older persons, there is also free treatment and advice at three camps:

· medical camp run by Kampala's International Medical Centre

· beauty camp for nails and hair, and

· legal advice camp.


Advertisement for Seniors Convention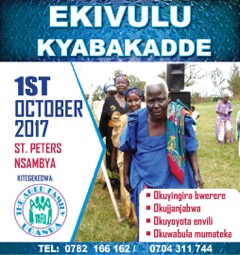 Check back often to keep up to date with what other events are happening at TAFU.