Welcome
The Aged Family Uganda (TAFU) is a registered Non Government Organisation (NGO) whose mission is to advocate for and provide support to older persons in Uganda.
The plight of older persons receives little attention in Uganda. TAFU plays an important role in awareness raising and advocacy. It is a founding member of a National Network of Older Persons Organisations (NNOPU) in Uganda to provide a more powerful voice for older persons.
TAFU operates an
elderly and home care service
and has managed income generating projects to support older women, HIV and AIDS projects to support orphaned grandchildren and an adult literacy project for older persons. TAFU also has a Befriending Programme that links volunteers to isolated older persons. TAFU also operates a cow project in which 10 grandchildren have benefited and have been educated in a boarding school, St, John Baptist Primary School Kisugu.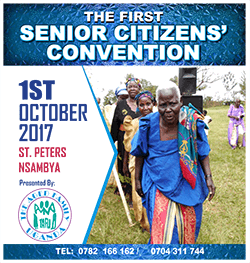 Senior Citizens Convention
1 October 2017 is International Day of Older Persons. So come celebrate the day with us at our very first Senior Citizens Convention.
There will be entertainment and events for all ages. Entrance is free and everyone is welcome.
Go to our
Events page
for more information.